Join us to raise awareness of suicide prevention and education in our community!

This toolkit provides you with resources to help you promote Suicide Awareness Month. You can download and print brochures, posters, and fact sheets to display at your workplace, at home, or in your community. You can also download and share social media images with your friends through Facebook, Instagram, and Twitter!
---
TOOLKITS
Suicide Awareness ToolKit – Resources for Workplaces
Suicide Awareness ToolKit – How to Engage Workplaces
DIGITAL TOOLKIT
We have developed a variety of graphics for Zoom, social media, etc. for you to use and share. Download here.
---
REPORTING ON SUICIDE
Talking about suicide can be intimidating. It's also important to be sensitive to those who have suicidal thoughts or have lost a loved one to suicide. These documents contains useful information such as appropriate language to use when reporting or writing about suicide (examples of what to do and what not to do), and tips on how to report on suicide in a thoughtful and respectful manner.
Recommendations for Reporting on Suicide
---
EVENT POSTER
Posters promoting Suicide Awareness Month events can be posted around your workplace and shared with staff and clients. Invite your family, friends, and co-workers ꟷ join us for the annual walk!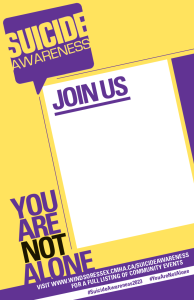 ---
FACEBOOK / TWITTER / INSTAGRAM
Follow and tag us on social media @CMHAWECB and @TheWECHU
Share, forward, post, or tweet these images to talk about suicide awareness and let loved ones know you care for them and that they are not alone. Don't forget to use our hashtags! #SuicideAwareness2023 #YouAreNotAlone
COVER PHOTOS
Facebook                                                        Twitter


Instagram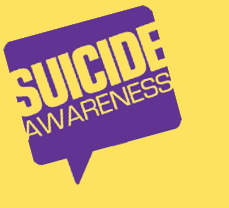 ZOOM BACKGROUND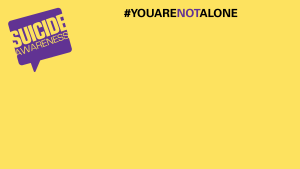 EMAIL BANNER

VIDEOS
These videos have been created for Suicide Awareness. Please feel view and share.