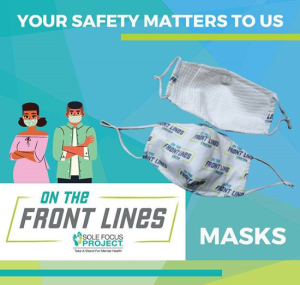 CMHA-WECB now has branded masks! Each mask comes with an anti-fog filter. Available for purchase here. $10 each or 3 for $25.
Available for pick-up at our office (1400 Windsor Ave.) within 24 hours of purchase, Monday-Friday between 8:30am-4:30pm.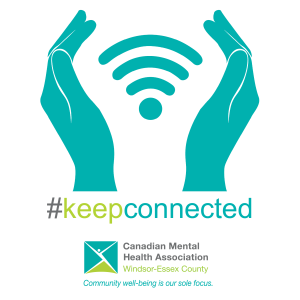 It's important now more than ever that we #KeepConnected. Visit our webpage for ideas and shareables to stay connected during COVID-19.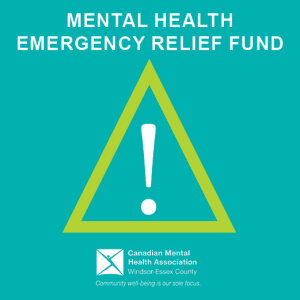 Emergency assistance is needed for some of our most financially vulnerable clients. Our Client Assistance Fund is in need of emergency funding due to increased needs from the COVID-19 pandemic. To read more, click here. To donate, click here and choose "COVID-19 Emergency Relief Fund". Thank you.
Thank you to everyone that has donated Personal Protective Equipment, and made a donation to our Emergency Relief Fund!
Canadian Moldmakers
DeYong, Kim
Greg Monforton & Partners
Hiram Walker
Humanity Canada
Jones, Mark
Kelcom 3D
Lemay, Greg
LiUNA!625
Paulin Memorial Presbyterian Church
Toldo Foundation
Deemed an essential service by the Ontario government amid public health concerns related to COVID-19, Canadian Mental Health Association, Windsor-Essex County Branch (CMHA-WECB) remains open and is ensuring community mental health and addictions supports are safely available by providing programs, services and information online and over the phone as this situation develops.
In accordance with social distancing measures outlined by public health agencies, CMHA-WECB has altered service delivery to protect public health and safety, pivoting services and information sharing to virtual or other means so individuals in need of mental health and addictions supports can continue to get the help they need.
To protect clients and staff while continuing to support the community, CMHA-WECB is providing client services over the phone and is looking at introducing online supports, in addition to those already being offered by Mental Health Works. All events, external meetings and groups have been temporarily suspended. All staff and clients entering either our main branch at 1400 Windsor Ave., or the Crisis & Mental Wellness Centre at 744 Ouellette Ave., must enter through the main/front entrance and will be required to take part in a mandatory screening process.
A reminder to practice social distancing, wash your hands thoroughly and often, and if you are experiencing a cough or fever, it is best to stay home.
As this public health situation develops, CMHA-WECB will continue to inform clients and the community of further changes to programs and services as they occur. Stay up to date by checking this page or our social media channels often.
CMHA-WECB COVID-10 Safety Plan
COVID-19 News
Grief Resources
Local Information & Resources
Provincial Information & Supports
Federal Information & Supports
Online Resources & Supports
Additional Resources
Tip Sheets