March 27, 2020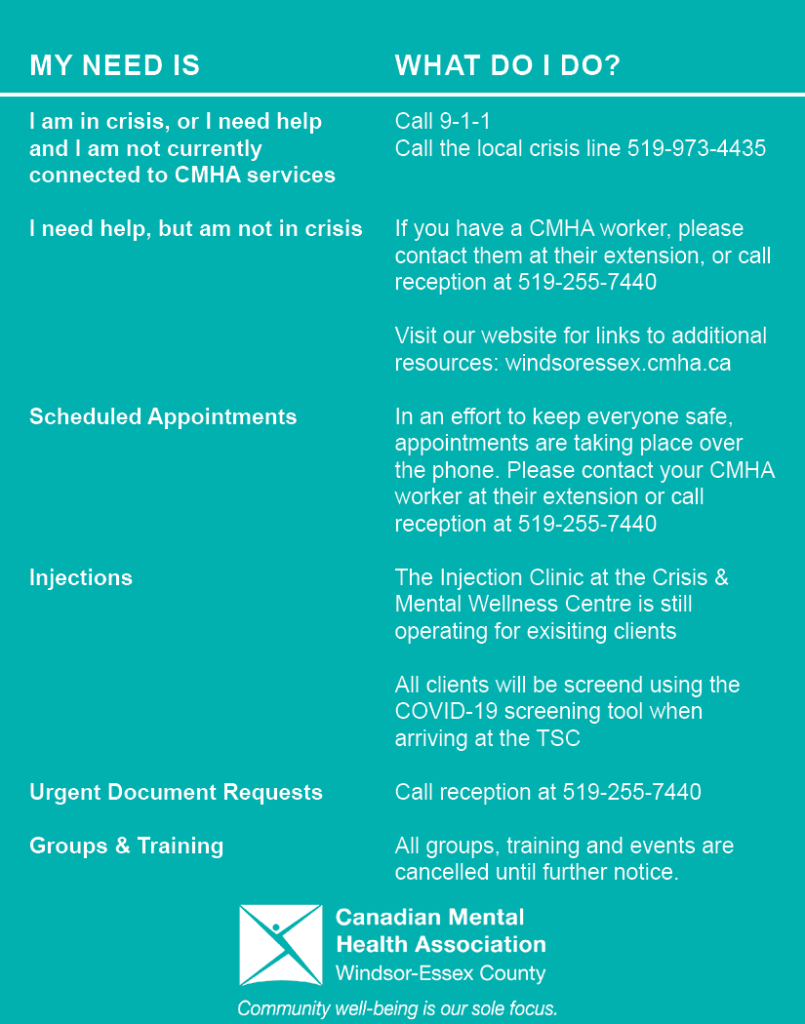 "The Secret Sauce to Make Your New Work-at-Home Situation a Success"  provides great tips as many of us adjust to our "new normal" working from home.
March 24, 2020
Deemed an essential service by the Ontario government amid public health concerns related to COVID-19, Canadian Mental Health Association, Windsor-Essex County Branch (CMHA-WECB) remains open and is ensuring community mental health and addictions supports are safely available by providing programs, services and information online and over the phone as this situation develops.
In accordance with social distancing measures outlined by public health agencies, CMHA-WECB has recently altered service delivery to protect public health and safety, pivoting services and information sharing to virtual or other means so individuals in need of mental health and addictions supports can continue to get the help they need.
To protect clients and staff while continuing to support the community, CMHA-WECB is providing client services over the phone and is looking at introducing online supports, in addition to those already being offered by Mental Health Works.
As this public health situation develops, CMHA-WECB will continue to inform clients and the community of further changes to programs and services as they occur. Stay up to date by checking this page or our social media channels often.
Additional Resources:
March 18, 2020
Due to circumstances related to the current COVID-19 precautions, the Mobile Outreach Support Team (MOST) collaboration between Hotel Dieu Grace Healthcare, Canadian Mental Health Association Windsor Essex, Family Services Windsor Essex and Assisted Living Southwestern Ontario (ALSO), will be suspended until April 6th.
Today, March 18th,  a small team from ALSO will be going out to offer some sanitary and comfort items to persons who may be waiting at the scheduled stops that MOST regularly attends. They will be communicating the temporary suspension of the program along with the distribution of sanitary and comfort items. Information will also be posted on the HDGH website.
In the meantime there are discussions locally on what we can be doing to ensure that people experiencing homelessness are supported in this difficult time. Family Service Windsor Outreach Workers who are an integral part of the MOST collaboration will be out Monday to Friday during the day continuing their important work.
Please stay tuned for additional information as it becomes available.
March 14, 2020
CMHA-WECB has been closely monitoring the Covid-19 pandemic, and in an effort to help contain the spread of the virus and to protect our clients and staff, we will be implementing the following temporary restrictions:
As of noon on Monday, March 16, all staff and clients entering our main branch at 1400 Windsor Avenue are to do so through the main doors and will be required to take part in a mandatory screening process,
All events, external meetings and groups have been temporarily suspended. Your case worker will be in contact on Monday to ensure alternative supports are in place for clients,
Our facilities staff have increased their frequency of cleaning high-contact areas,
A reminder to practice social distancing, wash your hands thoroughly and often, and if you are experiencing a cough or fever, it is best to stay home.
We will continue to provide updates as the situation changes. Thank you for your patience and understanding at this time.