The Can-Am Police-Fire Games and CMHA-WECB have teamed up with Windsor CrossFit for a team challenge event!
Saturday, May 7th from 9:30am – 12:30pm
Windsor CrossFit – 1106 Laramie St.
(On the corner of First and Laramie)
COMPETITION DETAILS
Five challenges with a 20 point spread for 1st place to 5th place.
(1st = 100 pts, 2nd = 80 pts, 3rd = 60 pts, 4th = 40 pts, 5th = 20 pts)
Teams are given a bonus 10 points for every $100 raised for the event.
So even if you do poorly in any one event, you can save yourself with donations and get a shot at first place!
TEAM DONATION LINKS

LEADERBOARD & TEAM TOTALS
Windsor Fire – $2,750
Windsor Police – $1,925
Windsor CrossFit – $750
Windsor EMS – $275
CMHA-WECB – $135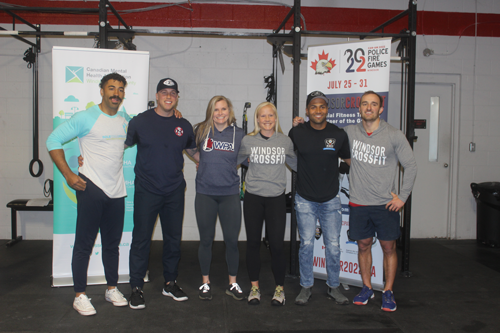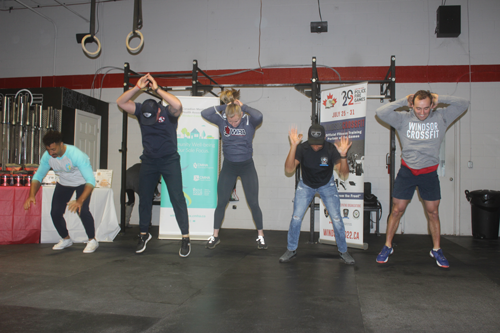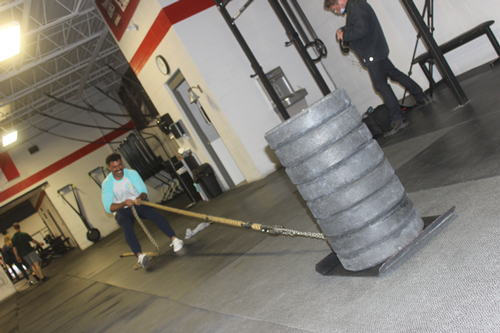 EVENT DETAILS
EVENT ONE: "ENGINE"
7:00 AMRAP: Burpees to a 6″ Target
All team members work at the same time. Score is total reps accumulated by all teammates in the 7 minute time frame.
EVENT TWO: "HANG IN THERE"
The team that hangs from a pull up bar the longest, wins!
On 3…2…1…GO! The first team member starts their hang. When they fall off, the next member hops up. Score is the total time accumulated between all team members.
This event has a 10:00 minute cap. If more than one team makes it to the 10 minute mark, they will choose a single member from their team to participate in the tie break hang.
EVENT THREE: "THE LONG HAUL"
Teams have 15 minutes to pull the heaviest possible sled across a 75′ distance.
Each member determines their heaviest sled pull. Sled must be pulled without stopping. Score is the total maximum weight pulled by each team member combined. Women's weight will be given a 30% boost.
EVENT FOUR: "RACE PACE"
The first team to reach 240 calories on the Concept 2 Rower, wins!
Women's calories will be prescribed at 42c per teammate, and men's at 60c.
(Example: A team of four men would need to reach 240 calories, a team of two men (60c each) and two women (42c each) would need to reach 204 calories). This event has a 14:00 cap. 
EVENT FIVE: "SCRAMBLED OR HARD BOILED?"
The team that makes it through the obstacle course successfully in the shortest amount of time wins! Each teammate must carry an egg on a spoon throughout.
If you drop and break your egg, you must return to the start line and begin again with a fresh one.
Windsor CrossFit is offering 25% off memberships for any first responder who signs up for the Can-Am Games.
*This membership is for use for training up until the Games. Post games, the membership would revert to regular pricing if the First Responder chooses to stay with the gym.
Windsor CrossFit is also offering one First Responder a free 1 Year Membership at our facility. Anyone who signs up for the Can-Am Games before April 1st, 2022 will go into the draw to win this prize. ($2,388 value)