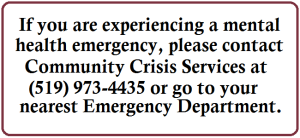 The Transitional Stability Centre (TSC) is an integrated interagency model of care. The TSC provides support for individuals identified as frequent users of Emergency Services, including Emergency Department, ambulance and police services, homeless or at risk of being homeless, having minor infractions with the law, and those experiencing a mental health or substance abuse event who don't need admission to a hospital, but need stabilization and care coordination.
An inter-professional team onsite at TSC provides one-on-one (1:1) sessions with clients as well as supportive group programs. TSC collaborates with community organizations to provide clients with support/care services while ensuring tight client connections upon discharge. Client involvement can be up to five (5) weeks. Timelines are flexible based on client's needs.
Program Eligibility
Individuals aged 16 and over experiencing a mental health or substance abuse event not requiring urgent care
Do not require medical or psychiatric treatment in a hospital emergency department or an admission to a hospital bed
Are currently receiving services from agencies and community organizations and need to have services coordinated
Voluntary participation
Frequently use Emergency Department, Police Services and/or EMS
Most likely homeless, at risk thereof or living in substandard housing
May have minor infractions with the law and involvement with the court system
Difficult to engage
Are not violent or sexual offenders
Do not present as a danger to self or others
Referrals
Referrals are received from hospitals and community providers. Self-referrals are also encouraged. All referrals are screened for safety and suitability.
Contact Information 
Location
Transitional Stability Centre 744 Ouellette Ave. Windsor, ON, N9A 1C3 Phone: (519) 257-5224 Fax: (519) 973-0613
Hours of Operation
Monday – Friday 8:00am to 10:00pm, Weekends 8:00am – 8:00pm.
Kevin Matte Integrated Operations Manager Hôtel-Dieu Grace Healthcare / Canadian Mental Health Association, Windsor-Essex County Branch (519) 257-5111 ext. 72602 / (519) 562-5048
kmatte@cmha-wecb.on.ca