Visit the official City of Windsor Can-Am 2022 Police Fire Games website here.
Media Coverage
City of Windsor to host the 2022 CanAm Games
Sponsor and Charity Partner Announcement
Events
June 17 – City of Windsor Can-Am Golf Series
2019 Speaker Series & Community Activities
June 8 – Mental Health Community Fun Day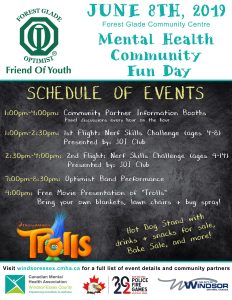 FREE Event at Forest Glade Optimist Club
11am-3pm Community Parade, Baseball Competitions, Community Resources in Forest Glade Library & First Responder Panel
8pm-11pm Outdoor Movie
June 13 – Boston Pizza First Responder Family Fun Night
5pm-8pm at Boston Pizza (Walker Rd.)
$10 ticket includes admission, discount on your dinner order, prizes, raffles and more! Tickets available from CMHA-WECB
June 18 – Critical Incidents & Resilience: Accepting a New Normal
8am at Roseland Golf & Curling Club
Canadian Armed Forces Veteran Mike Akpata will share experiences from his deployment to Afghanistan in 2007. Followed by a Panel discussion on PTSD.
June 19 – safeTALK
5pm-8pm at CMHA-WECB (1400 Windsor Ave.)
FREE for First Responder Families thanks to Dan Gemus
Click here to register
June 20 – Ken Daniels: "One Life Lost to Addiction is One Life Too Many"
9am-11am at Roseland Golf & Curling Club
Purchase tickets here
June 20 & 21 – ASIST Training
8:45am-4:30pm at CMHA-WECB (1400 Windsor Ave.)
Registration for First Responders thanks to Dan Gemus
Click here to register