Location Map:
May 1, 2019 to May 31, 2019
12:00 am
CMHA
1400 Windsor Ave.
Windsor, ON
N8X 3L9
Canada
Add to Calendar (iCal) Add to Google Calendar
May is Mental Health Month in Windsor-Essex County.
#GETLOUD throughout the month of May by attending an event or on social media.
To download an image for your e-signature, click an image below:
Download the School Tool-Kit here.
Several exciting events are scheduled.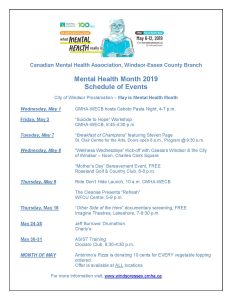 Download social media tools here:
Facebook
Twitter

Instagram (click link)